Description
A skin-safe leather and silicone mouth gag from Bondage Boutique, with O-rings located on the side to attach to reins. Ideal as a bondage restraint in the bedroom or for some pony or fetish play.
The silicone bit gag measures 5 inches in length and is designed to slip between your lover's lips and be bitten down on. The shape of the gag allows them to breath and moan while preventing them from talking.
The gag can be adjusted between 17 – 23 inches in circumference and secured with the strong buckle fastenings.
Two large metal, nickel-free O-rings and leather straps are attached to the silicone mouth bit and a pair of reins can be added if you want to indulge in a little horse play or demand further submission with BDSM restraints.
Key Features:
Luxury silicone and leather bit gag for pony play

Soft silicone gag of 3 inch circumference offers maximum comfort

Complete with nickel-free O-rings for addition of reins or other restraints

Adjustable leather straps and buckle fastening allows for fittings of 17-23 inches

High-quality leather and skin-safe silicone ensure comfort and durability
Product description via Lovehoney
 10% off everything from Lovehoney when navigating from the special link above. Discount will show in shopping cart. 
---
Sunny's Recommendation
Although I love ball gags they can be quite taxing on the jaw. This is especially a problem if the submissive partner is expected to use their mouth later on in the scene, if you catch my drift. Although popular for pony play, bit gags are great for any type of BDSM scene.
Bit gags (sometimes called bar gags) are also especially suited for beginner kink because they allow the wearer to easily breathe. In addition, most wearers can form words audibly enough for other players to understand while wearing a bar gag.
The thing about this particular bit gag that's great is the bit is made from silicone. This is very important because silicone is nonporous, safe for your body, hypoallergenic, and taste-free. Some of the other gags made from non-silicone materials can be problematic. I've tried mouth gags that not only tasted like chemicals, they actually made my mouth tingle and burn! No matter what gag you buy it's important to check to make sure it's made from silicone as opposed to rubber. Notice in my shop I do not offer anything that goes inside the body that is made from latex, jelly, or rubber? I only recommend body friendly, non porous materials like silicone, hard plastics, glass, non-coated metal, etc.
Here's my video on bar gags and how to use them: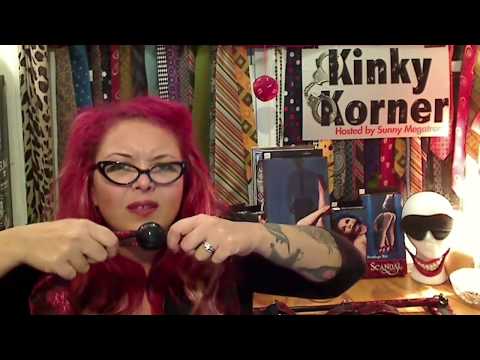 If you'd like to know more about my affiliate relationships please read my post, "What's an affiliate?"